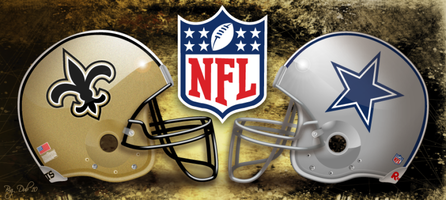 No two NFL teams have more fans in the Shreveport-Bossier City area than the New Orleans Saints and the Dallas Cowboys. So as was the case today around area water coolers, debate about who has the better 2014 draft class is always popular this time of year. Here's our take as well as the clear winner of each part of the draft:
Round 1
Saints: With the 20th pick, the Saints hit the jackpot. Brandin Cooks is FAST. ran a 4.33-sec, 40-yard dash time at the Combine. The 2013 Biletnikoff Award winner appears to have an impressive work ethic and the pedigree for excelling. Another upside is that Cooks is only 20 years old and should get even better as he matures.
Cowboys: Considering the rumors, Dallas took a rather conservative and logical approach leading off.  Jerry Jones, known to be distracted by dazzle, wisely and inexplicably resisted the allure of Johnny Manziel and draft OL Zack Martin.  Fantastic job by the Cowboys early on to send a signal to Romo and fans everywhere that they have trust in him and are willing to fix the mistakes of last season.
Winner: Tie
Round 2
Cowboys: If you think the Damarcus the Cowboys picked up with their 2nd pick in the draft will replace the Demarcus they let go earlier this year, you may be disappointed early on.  Demarcus Lawrence, while also a DE like Damarcus Ware, will be a good contributor but lacks the explosiveness that the Cowboys are used to at this position.  Furthermore, this pick was obtained in a lopsided trade with Washington. The prize was definitely not worth the cost.
Saints: If a cornerback with a name like Stanley Jean-Baptiste is on the board, and it's your pick – and you're the New Orleans Saints… yeah.  They really had no choice here.  But let's just pretend his name is John Smith for a second, Saints fans, and look at the facts: he's been hobbled with injuries, he's inexperienced at the position (played WR before switching to CB), and with Champ Bailey and others at the position, is another body really needed?  When you consider the more pressing need at center and the availability of USC's Marcus Martin, this pick was a head-scratcher.
Winner: Dallas Cowboys
Rounds 4 and 5 (No 3rd-round picks by either team)
Saints: The Saints used the middle of the draft to bulk up on defense, which was much needed. Khairi Fortt (LB, 4th) goes with Rob Ryan's defense like powder sugar goes with beignets. There are high hopes for Vinnie Sunseri (5th) to start at safety in the future, and Ronald Powell add depth at OLB.  Great picks mid-way through, but all three have some durability issues.
Cowboys:  The University of Pittsburgh's all-time leading pass-catcher isn't Larry Fitzgerald, as one would think.  It's Devin Street, the 5th-round pick for Dallas this year.  It's tough to not look at this pick and see Jerry Jones written all over it.  Street has enough sparkle on his resume to distract Jerry from the reality – he has bad ball-carrying fundamentals and lacks the physicality that usually comes with big targets.
Winner: New Orleans Saints
Rounds 6 and 7
Saints: The Saints last pick, Tavon Rooks, gives them a project at OLB.  Rooks has untapped potential, and if Rob Ryan and his staff can help him realize that potential we'll be looking at a very special linebacker.  This was the only pick for the Saints in the last two rounds.
Cowboys: Team Jerry finished up the draft with 5 (yes, FIVE) picks in the 7th round, all of them defensive players.  Just by shear numbers alone, the Cowboys have the better chance at finding a gem out of these late picks.  Keep all eyes on Baylor alum Ahmad Dixon at safety.
Winner: Dallas Cowboys
Overall Winner: Dallas Cowboys 
Based on the results, the Cowboys have the better chance of getting some quality players out of this draft class than the New Orleans Saints.  Share your comments below or debate with us and other fans on Facebook.